ABOUT DEADBOLT
Deadbolt is where the party is. Whether you're after interactive challenges, live music as well as a clubbing experience, guest DJs from the coolest nights in the country or just a night with the freshest music around - we are your night.
Since launching in 2011, Deadbolt has gone from strength to strength. From starting out as a midweek alternative to the more standard rock nights in the city of Manchester, Deadbolt has become the last word in alternative brands in the city on top of hosting nights nationwide and has even ventured across the water to Ireland all in the name of party.
The brand has seen guest DJs such as Funeral For A Friend, Bury Tomorrow, Pinky Swear, Sabotage Dublin, Tek One, Harry Radford amongst many others as well as hosted many live shows and 3 festivals featuring Astroid Boys, Heart Of A Coward, Martyr Defiled, Empires Fade, WSTR, Boston Manor, Roam, Our Hollow Our Home and dozens of other great acts.
At Deadbolt you can expect to hear a mix of upcoming bands and classic hits in the genres of rock, metalcore, pop punk, metal, emo and dancefloor anthems.
Expect bands such as:
Bring Me The Horizon | Paramore | You Me At Six | State Champs | Fall Out Boy | Enter Shikari | Panic! At The Disco | Architects | My Chemical Romance | FEVER 333 | All Time Low | Neck Deep | Alexisonfire | While She Sleeps | New Found Glory | Machine Gun Kelly | Underoath | Don Broco | Funeral For A Friend | Real Friends | Every Time I Die | Taking Back Sunday | Holding Absence | Blink 182 | Bury Tomorrow | The Wonder Years | Loathe | Beartooth | Yungblud | Parkway Drive | Creeper | Sleeping With Sirens | Northlane | PVRIS | Waterparks | The Amity Affliction | Yonaka | Asking Alexandria | Dream State | We The Kings | The Used | Every Time I Die | Nova Twins | Four Year Strong | Twenty One Pilots | Junior | Pierce The Veil | The Blackout | As It Is | Set Your Goals | With Confidence | Blessthefall | Mayday Parade | Chunk! No, Captain Chunk! | Code Orange | Knuckle Puck | The Ghost Inside | Letlive. | Set It Off | Of Mice & Men | Teenage Wrist | Fightstar | Hot Milk | Simple Creatures | Counterparts | Vukovi | Meet Me @ The Altar | Tonight Alive & many more!
Deadbolt clubnights are 18+ events. ID will be required.
DEADBOLT NEWS
Alternative party Deadbolt is launching Riptide – a new weekly Tuesday night event in Manchester at The Font on September 13th. The night will create an "Alternative Hangout" – a place to meet friends, enjoy the best in pop punk, alt, emo and metal music from the Deadbolt DJ team, play games and take advantage of special exclusive deals on drinks and food. The Font is known for its colourful range of cocktails, priced from just £3 upwards and will be showcasing exclusive drinks just for the weekly Riptide events including a flagship cocktail, signature shots and novelty drinks.  The kitchen will be […]
Alternative party Deadbolt is bringing Kerrang! and BBC Radio 1 DJ Alyx Holcombe and Sean Smith (of Sappenin' Podcast, The Blackout and Raiders) to Manchester for their freshers party at The Bread Shed on Saturday 24th September. Deadbolt is known in Manchester as a chaotic clubnight where people can enjoy a party vibe a little different from the traditional clubbing experiences. Deadbolt creates a house party atmosphere with live performances, interactive games and giveaways – and all of this is to a mix of emo, metal, rock, pop punk and alternative anthems provided by Deadbolt DJs LJC, Bekkiness and Ronnie B. […]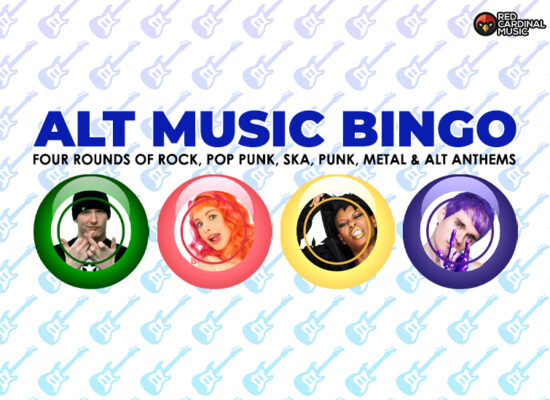 Deadbolt is teaming up with The Font on Monday September 26th to host Alt Music Bingo. The event is sponsored by Fireball Whiskey and will be comprised of four rounds, with prizes available for each. The rounds will be mixed between all genres of what can be described as "alternative", meaning they could feature songs considered to be Metal, Emo, Pop Punk, Ska, Emo Rap or Alt Dance.  The night will be hosted by Deadbolt DJs LJC and Bekkiness, with sets in between rounds.  The Font will have special student deals on drinks and food for students and society members […]
See all Deadbolt News